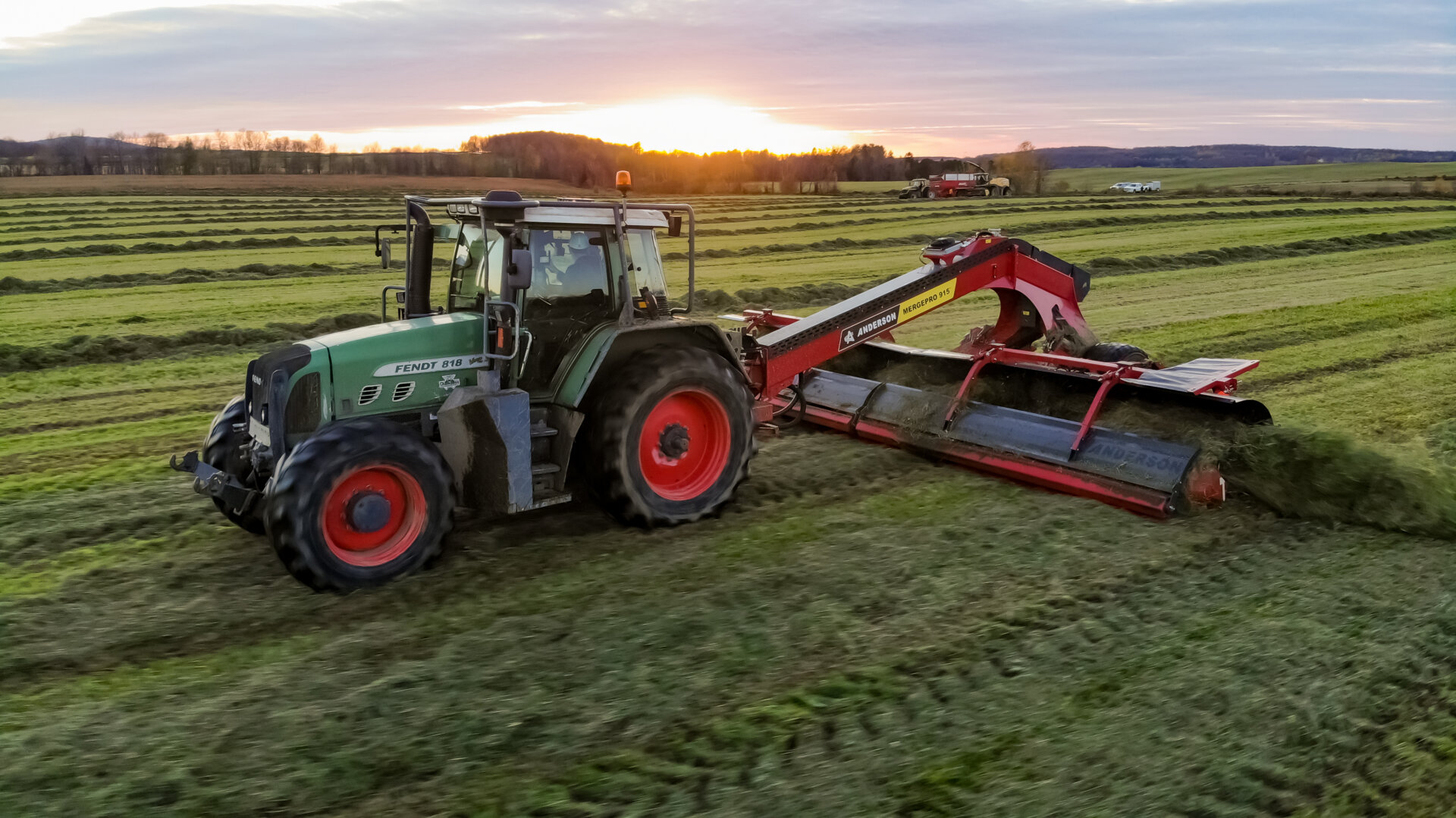 Features and Benefits
Why buy the MERGEPRO1060?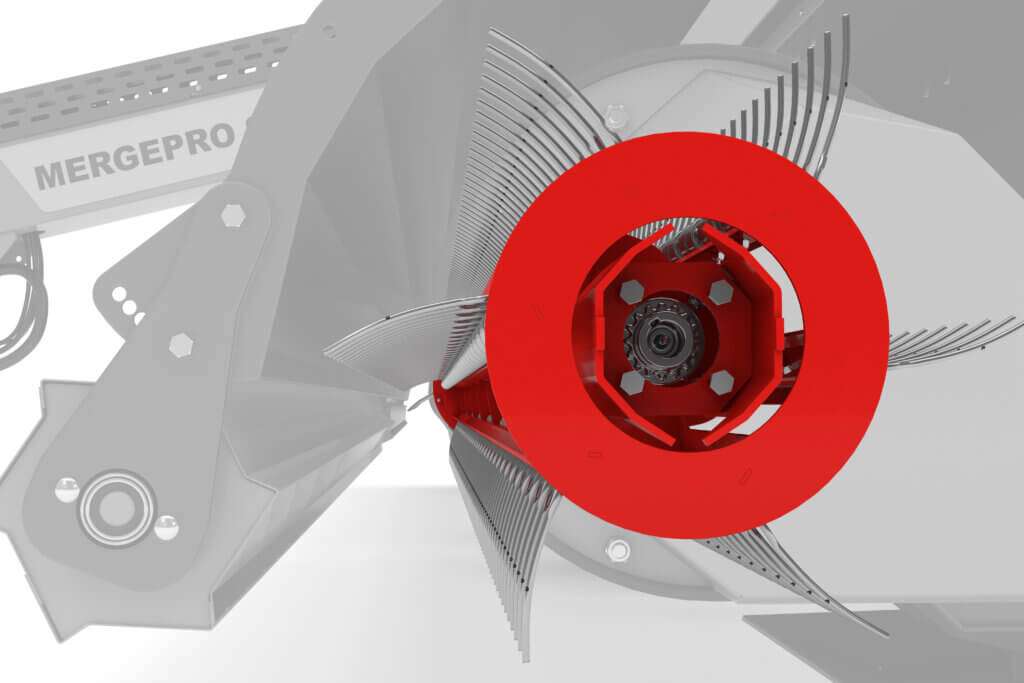 01
Camless pickup
Camless 6 row pickup reel means, no unnecessary bearings, control rollers, curved tracks and tine carrier profiles. Significantly fewer components for higher working speed and reduced maintenance. Simple rotation, no additional moving parts, no additional wear. Less parts = less maintenance.

02
Fastest working speed
Cam less pickup also allows for maximum working speed from 0 to 18 mph (0-28 km/h)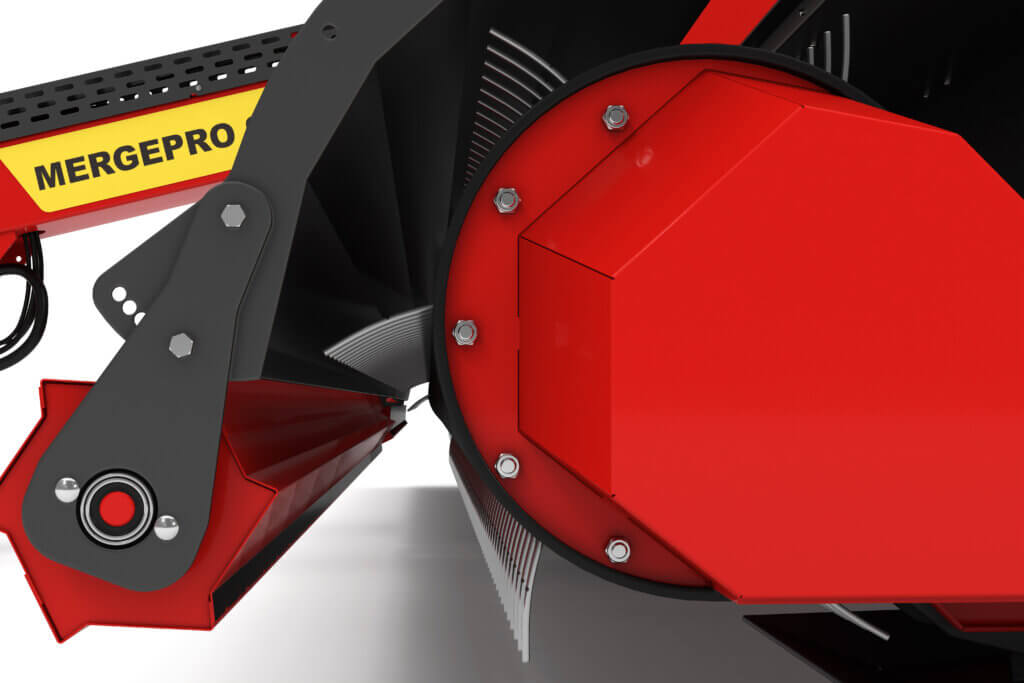 03
Adaptive True Ground Speed technology
This truly unique feature to the MERGEPRO allows the pickup and belt to be constantly monitoring the ground speed and adjusting themselves to deliver constant and equal crop on the belt as you go insuring consistent swath.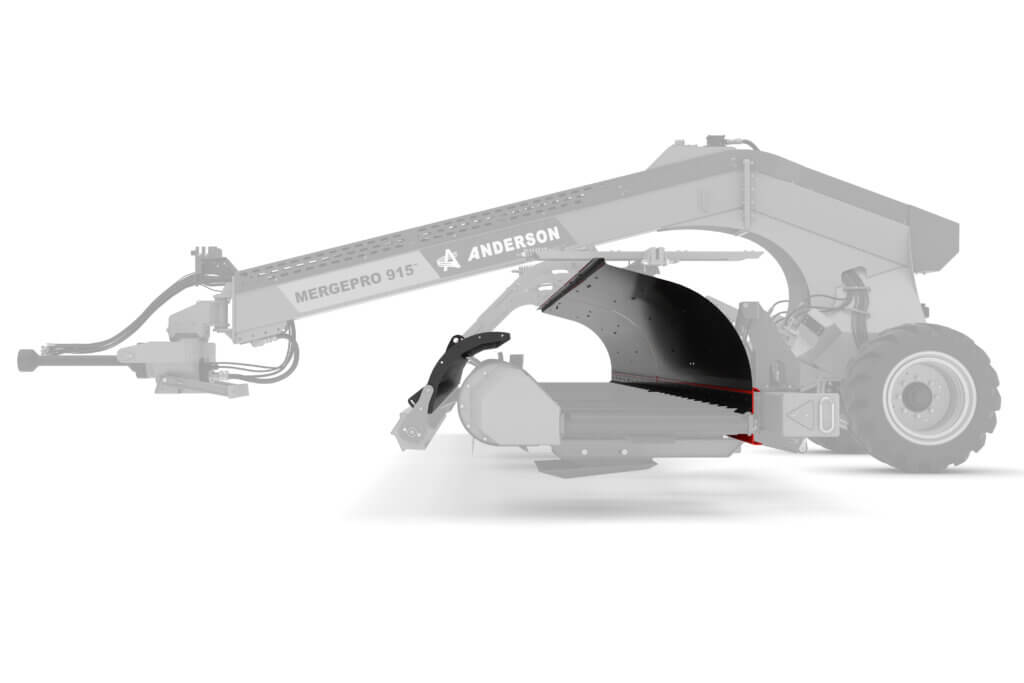 04
Deflector above pickup and belt
Optimizing the crop upside down rotation for better drying effect of the forage.Insures constant and smooth flow of the crop from the field ground to the belt conveyor without damaging the leaves or letting them flying off the swath.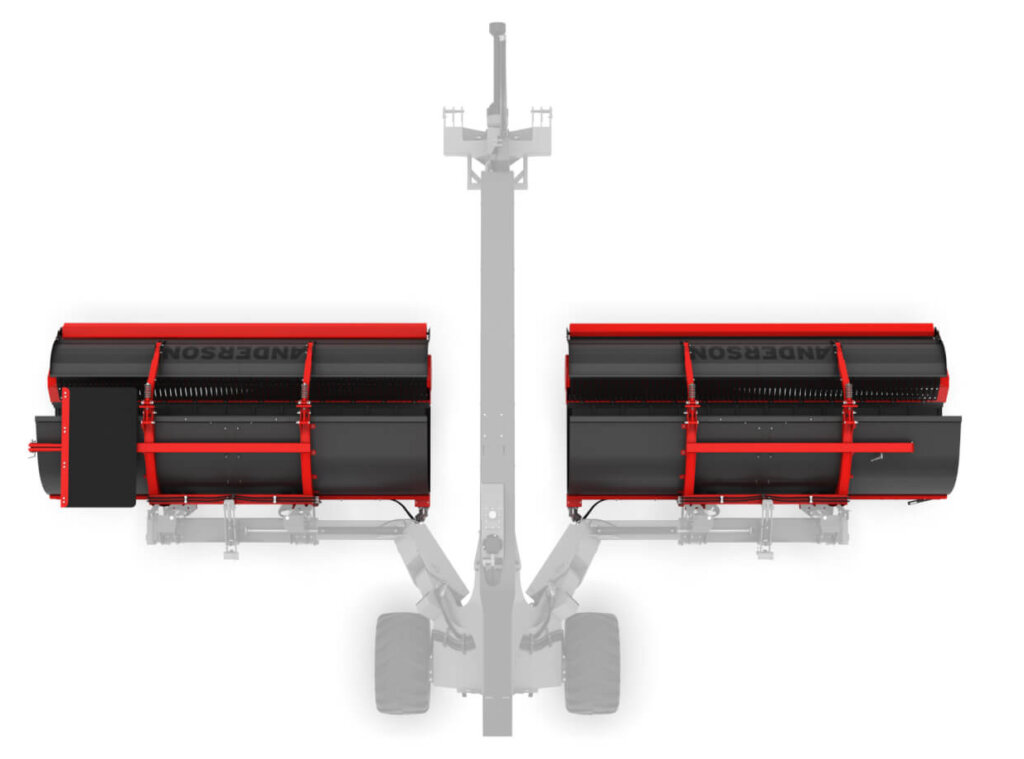 05
Multiple crop delivery options
Left, Right, Left and Right, Left Left with center delivery, Right right with center delivery, All center. Dimensions of 30 ft (9,15m) when working in side delivery and 35ft (10,67m) in center delivery mode.
06
Narrow and simple transport
For the same raking width as a rotary rake, belt rakes are much more compact in size, making them much easier to use and store. Their stability and weight also make them easier for your tractor to lift, making transport and navigation of rough roads simpler and making them ideal for working in tight spaces.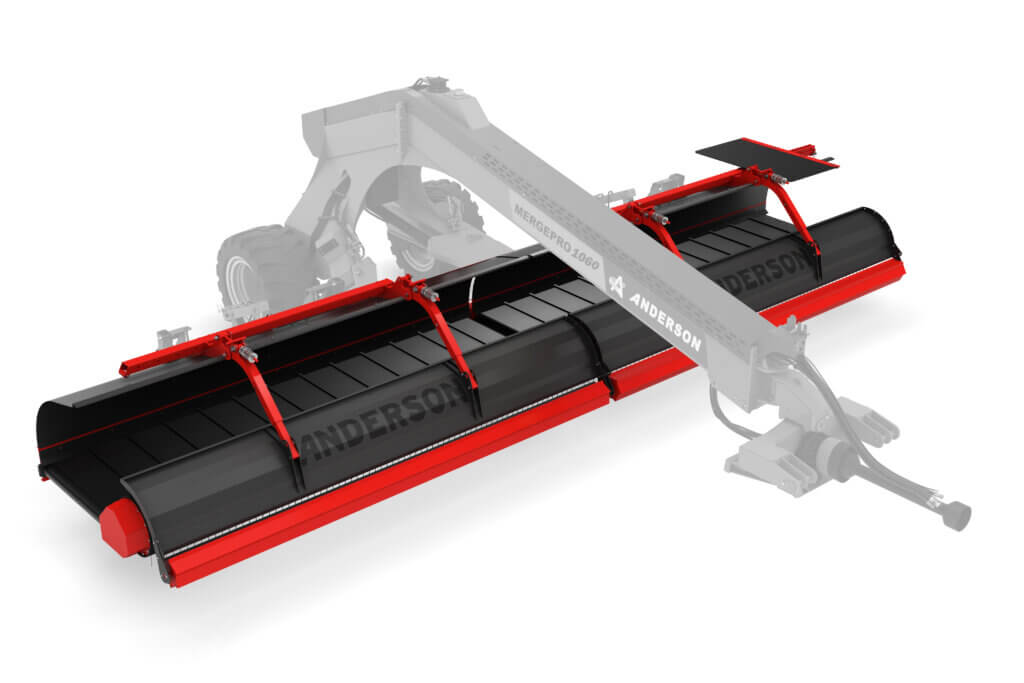 07
Heavy Duty Belt Conveyors
Commercial-grade belt conveyors provide efficient transition from crop to windrow, regardless of delivery side. The conveyor belt is self-cleaning and requires no tracking adjustments. The belt tension can be adjusted without any tools.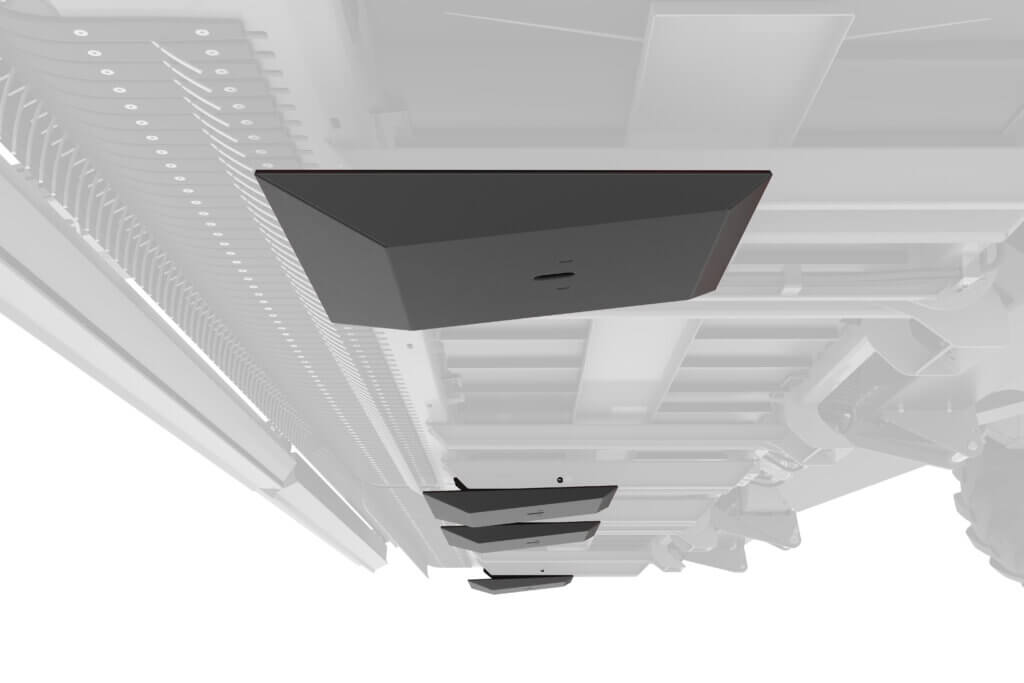 08
Compaction of the field
The large contact surface of the skid shoes ensures, even in very soft and wet soil conditions, that the MERGEPRO glides smoothly over the ground. This support surface has a damping effect and thus reduces system oscillations and vibrations. Low compaction is equally achieved due to our hydraulic adjustable suspension system. This protects the entire system and the field.
WHAT SETS US APART
WHEN COMPARING OTHER RAKE SYSTEMS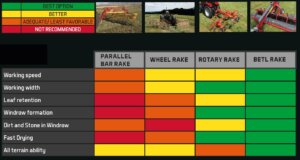 Interested in the MERGEPRO1060?
Technical specifications
MERGEPRO1060
Specifications
| | |
| --- | --- |
| Working width centre swath | 35 ft (10.67 m) |
| Working width side swath | 30 ft + 5ft swath (9.15 m + 1.52m swath) |
| Swath width centre swath | 4,6 ft (1.40m) |
| Swath width side swath with swathboard | 3 to 5 ft ( 0,91 to 1.52m) |
| Number of pick-up units | 2 |
| Pick-up width (tine-to-tine) | 15 ft (4.57 m) |
| Transport width | 8.3 ft (2.53m) |
| Transport height | 11.4 ft (3.47m) |
| Transport length | 30,1 ft (9,18 m) |
| Height in transport position (for shipping purpose) | 10.4ft (3.17m) |
| Min power flat ground (12km/h- 8mph) | 100 HP |
| Min power flat terrain (28km/h -18mph)** | 140 HP |
| Min power all other type of terrain (28km/h-18mph)** | 180 HP |
| PTO requirement | 1 3/8 Z21 1000 @ 800 RPM Standard configuration (PTO included)n1 3/8 Z6 540 @ 540 RPM compatible (PTO not included) |
| PTO RPM and equivalent optimal working speed | 800 RPM (from 0 to 28km/h)n540 RPM (from 0 to 18 km/h) |
| Max working speed | 18 mph (28 km/h) |
| Hydraulic | 38 GPM @ 800 RPM (133 L/min @ 800 RPM)n26 GPM @ 540 RPM (98 L/min @ 540 RPM) |
| Conveyor belt hydraulic motor | High quality Hydraulic Piston Motor |
| Pickup hydraulic motor | Hydraulic motor @ 243 RPM @ 28 km/h (18 mph |
| Oil reservoir capacity | 95 US gal (360 L) |
| Oil type | TDH |
| Oil Cooling system | Standard |
| Tires on transport chassis | 560 / 45-22.5 RADIAL |
| Conveyor length | 15,2 ft (4,6m) |
| Conveyor width | 36 in (0.92 m) |
| Discharge capability | right left center |
| Conveyor direction control from tractor cab | yes |
| Pickup height | 0-3 in ( 7.2 cm) |
| Hitch | 2 points Category 2 & 3 |
| Electronic variable pickup speed control from tractor cab | Yes |
| Road lights and signaling | Yes |
| Required tractor hydraulic connections | 2 outlets standard ( 3 if swathboard option) |
| Approximate machine weight | 11 750 lb (5 340 Kg) |
| Adjustable skid shoes | Standard |
Comparing ground pressure:
| | |
| --- | --- |
| 1 person weighing 90kg (200 lbs) | 1.16 lbs / sq.in ( 0.081 kg/cm2) |
| 1 MergePro skid | 0.85 lbs / sq.in ( 0.059 kg/cm2) |
CLICK TO VIEW PRODUCT CATALOG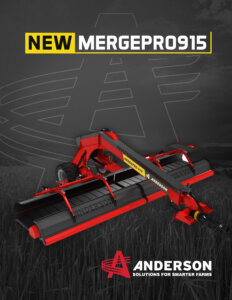 Product video: